National Cat Health Month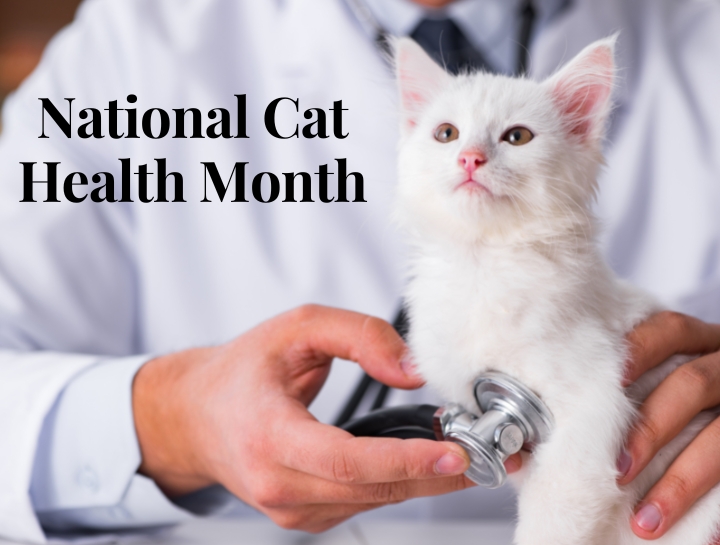 February 8, 2023
February is for our feline friends—it's National Cat Health Month! This month, take extra time to make sure your cat has a purr-fect bill of health not just in February, but year-round.
Regular Wellness Visits
Even if your cat seems completely healthy, regular wellness visits can help detect any issues in the early stages. Cats often don't show signs and symptoms until a problem has progressed. At your regular check-up, your vet may suggest testing to help detect potential disease processes, such as kidney disease. It is essential to start treatment plans early in the process and lower the risk of illnesses becoming life-threatening.
Keep Vaccinations Up to Date
From the moment your cat joins the family, they will need vaccinations. Giving your feline family member vaccines will help prevent serious illnesses. Speak to your veterinarian about your cat's vaccination schedule and be sure to mark them in your calendar!
Monitor Weight & Provide a Healthy Diet
Cats become less active as they age and while we all love an afternoon laying in the sun, it's important to keep your cat active by ensuring playtime is a part of their daily routine. Using interactive feeders and a variety of cat toys will help your cat remain active and engaged. Pair this activity with a healthy diet and your cat will thank you! If you have any questions about what food is best for your cat, ask your veterinarian for recommendations based on their specific needs.
Dental Care
February is not only National Cat Health Month, it is also Pet Dental Health Month! Dental health plays a significant role in any pet's overall health. Keep your cat's purr-ly whites healthy with regular cleanings.
Have a Grooming Routine
A strong bond can be formed with cats through grooming. Create a grooming routine to solidify that bond, keep your cat's coat healthy, and notice any skin irregularities that may require a visit to the vet.
Follow these tips and your cat will be "feline" fine!
If you have any questions or would like to schedule an appointment, call us at (303) 663-2287 today!