Celebrating National Pet Wellness Month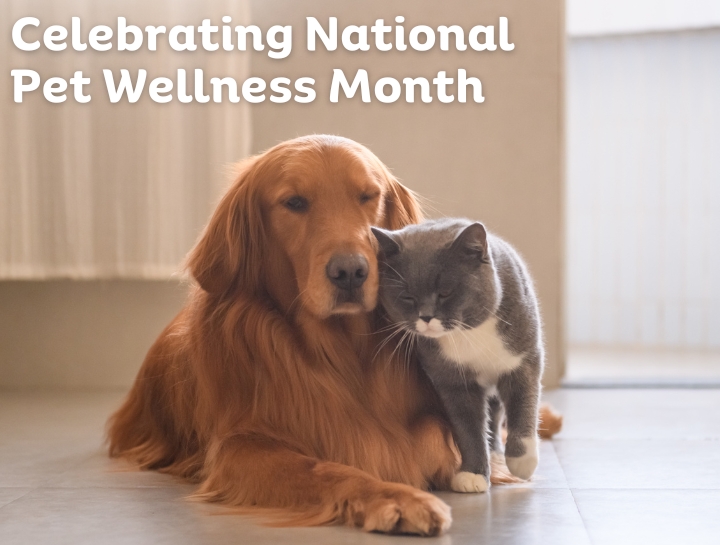 October 4, 2023
Woof! Meow! Squeak! It's that time of the year again—National Pet Wellness Month! Let's turn up the tail-wagging excitement and make pet health a topic worth barking about. Our pets fill our lives with so much joy and this month is a reminder to ensure our furry, feathered, or scaled friends are living their best and healthiest lives.
During National Pet Wellness Month, there are many ways to engage with your pet and promote their wellbeing:
1. Schedule a veterinary check-up: If you haven't done so recently, book a wellness exam for your pet to ensure they are in optimal health.
2. Review your pet's diet: Assess their food and feeding schedule with us to ensure it meets their nutritional requirements.
3. Increase exercise and playtime: Dedicate extra time to engage in physical activities and mental stimulation with your pet.
4. Update preventive care: Check your pet's vaccination records and schedule any necessary vaccinations or preventative treatments.
5. Groom and pamper your pet: Treat your furry friend to a spa day with grooming and nail trimming.
6. Learn something new: Enroll in a pet training class or try teaching your pet a new trick.

By adding some fun and creativity to their daily routine, we can ensure our pets are not just healthy but are also enjoying life by our side. A happy pet makes for a happy home, filled with endless smiles, tail wags, and purrs! If you have any questions about your pet's wellbeing or would like to schedule an appointment at Castle Rock Cat Hospital, call us today at (303) 663-2287!