National Senior Pet Month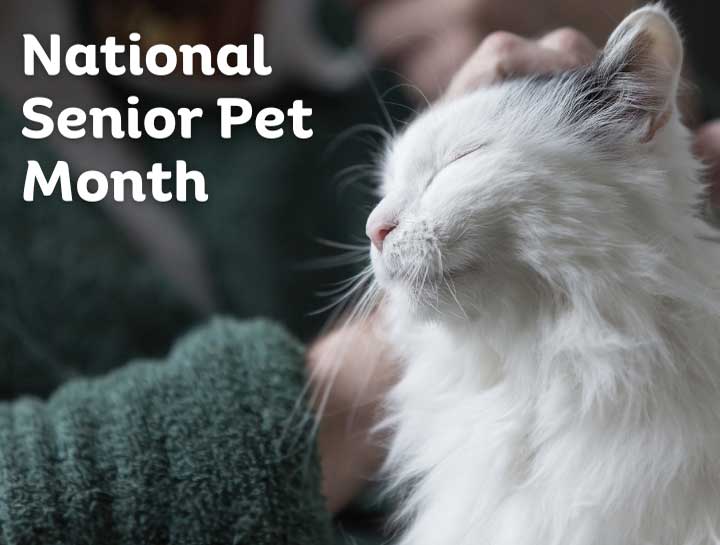 November 2, 2023
November is here and it's time to celebrate our senior pets because it's National Senior Pet Month! Let's embrace the wisdom, charm, and unwavering companionship our furry seniors bring into our lives.
The Importance of Senior Pet Health
Our senior pets have grown wiser and grayer with us, becoming family members we cherish with all our hearts. As they grow older, their needs change and it's our job to ensure their golden years shine brighter than ever. Here's how to make senior pet care a success:
Veterinary Check-ups:
Senior pets deserve red-carpet treatment with regular vet check-ups. Regular check-ups can catch health issues early, allowing for prompt treatment and a better quality of life.
Blood Work:
Senior Bloodwork is imperative to catching health issues early (and to monitor organ function) that may not be visible/caught during a routine physical exam.
Dine Like a Senior:
Senior pets might need a menu makeover. Consult your veterinarian to determine the best diet plan for your aging companion
Fit and Fabulous:
Seniors may not be sprinters, but they still love a good stroll! Obesity can lead to various health problems in senior pets, such as arthritis and diabetes. Short, gentle walks are crucial to an active and happy retirement.
Pearly Whites:
Dental dazzle is essential at any age. Schedule dental check-ups and incorporate teeth-brushing sessions into your pet's routine.
Pain-Free Living:
Arthritis and joint pain are common in senior pets. For those with aches and pains, consult your vet for both traditional and groundbreaking pain management solutions.
Throwing a Senior Pet Bash!
Now that we've covered the essentials, let's move on to the fun part—celebrating our senior pets like the rockstars they are:
Create a Spa-tacular Space:
Give your senior pet a plush, comfy throne (bed), and consider runway-worthy non-slip rugs to help them maintain their balance.
Rock 'n' Roll Routine:
Stick to a consistent schedule for meals, play, and nap times. Our senior stars thrive on predictability!
Snuggles and Selfies:
Show your love with cuddles, gentle play, and lots of photo ops. Share those heart-melting moments on social media, and watch the likes pour in!
Memory Lane:
Craft a memory lane by collecting photos and videos of your senior pet. Create a 'Best of' compilation to remember the good times.
Adopt a Silver Star:
If your heart has room for another furry friend, consider adopting a senior pet from a local shelter. You'll be giving them a second chance at stardom!

National Senior Pet Month is your chance to truly celebrate your aging fur-babies. Embrace the wisdom, charm, and endless love they bring into your life by understanding their needs and celebrating their unique personalities.
If you have any questions or would like to make an appointment for your senior pet, call us today at (303) 663-2287!